use pulldown menu or click arrow
Transport & Travel Info
Come Visit Us!
Beautiful Fort St. James is located on the shores of Stuart Lake, 160 km northwest of Prince George, BC. We can be reached by road, rail and air.
Enjoy a scenic drive west on the Yellowhead Highway 16 from Prince George, then turn north onto Highway 27 just west of Vanderhoof.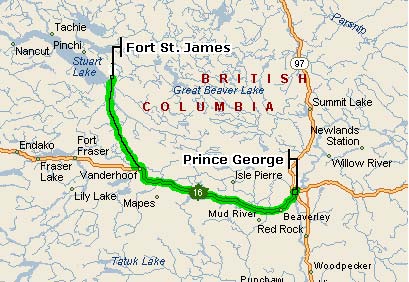 Transportation
Major Highways
Highway 27 North leads from Vanderhoof to Fort St. James and points north. This sealcoated secondary highway is the lifeline of our community, and is maintained by Yellowhead Road & Bridge.
Rail
CN Rail provides an essential rail link for the logging industry, bringing logs and finished lumber to and from the local sawmills.
Bus and Taxi Services
Northland Bus Lines provides daily passenger and parcel service to and from Prince George, linked with the Greyhound bus lines.
Courier Services
Several major courier services operate in Fort St. James, including DHL Express and Purolator.
Ports and Water
Stuart Lake is a boater's paradise, and there are several marinas and boat launches to help you enjoy it. Cottonwood Marina, Pitka Bay Resort, Paarens Beach Provincial Park and Sowchea Bay Provincial Park all provide access to this fabulous lake!
Air
Fort St. James Perison Airport, operated by the District of Fort St. James, offers a 4,000 foot paved runway, and houses two helicopter companies. There are no landing fees for aircraft.
Several operators fly small aircraft from the airport, and floatplanes on the lake, and are available for charter.