use pulldown menu or click arrow
About REDI
About REDI
One Voice for the Future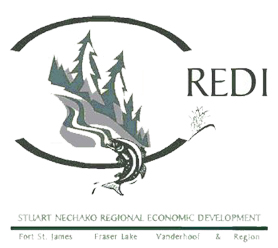 Local communities have united to ensure our region is economically diverse and sustainable by creating REDI - the Stuart Nechako Regional Economic Development Society.
REDI provides economic development leadership and assistance to the incorporated communities of Fort St. James, Fraser Lake and Vanderhoof; the Regional District areas C, D and F; and the First Nation communities of Nadleh Whut'en, Saik'uz, Nak'azdli, Tl'azt'en, Stellat'en, Takla and Yekooche.
Creating the Stuart Nechako eCommunity is one of the many ways to showcase and celebrate the diversity of our communities to increase our ability to be a strong economic force that is competitive provincially, nationally and internationally.
Vision
A unified and sustainable economic region.
Mission
To strengthen the regional economy by cultivating collaborative initiatives that create mutually supportive communities while respecting their diversity.
Objective
To strengthen and diversify the economy of the Stuart Nechako Region.
Strategic Direction
To guide the activities of REDI for 2005-2007 a Strategic Plan was developed. Included as part of the Strategic Plan was an Action Plan that provides the scope and schedule details for specific projects that will ensure the strategies are implemented.
The Action Plan was developed through an analysis of the historical documentation of the work completed by the Board and recent informal community consultation.
The Action Plan will be updated annually to identify:
Priorities that need to be addressed.
Projects that need to be implemented.
Measurable outcomes.
Process of evaluation.
Resources required for implementation.
Download the

REDI

Strategic Plan
REDI's Guiding Principles for the Stuart Nechako eCommunity
The Stuart Nechako eCommunity's guiding principles include a commitment to:
The needs of the community.
Inform, involve and inspire
Sustainability
Equity
Social responsibility
Continuous improvement
Cooperation and collaboration
Fairness and choice
Safety, confidentiality and privacy
Service excellence